All-in-one identity verification platform to onboard more users
Convert more users, scale faster, and tackle security challenges with the powerful, all-in-one identity verification, business verification, fraud prevention and compliance platform.
Meet regulatory compliance with ID verification
Comply with regulations and directives affecting your business. Meet Know Your Customer (KYC), Know Your Business (KYB), and Anti-Money Laundering (AML) requirements.
Prevent fraud by securing your systems
Verify customer IDs with AI-powered biometric recognition service. Ensure quality identity verification with iDenfy's team that manually reviews every audit.
Minimize user onboarding costs and save more
Pay only per successful ID verification, save up to 70% of user onboarding costs, and increase the volume of quality customers by preventing fraudulent accounts.
Industries
Comprehensive solutions tailored to every industry
This is an actual software preview
IDENTITY VERIFICATION
Start onboarding more customers
Integrate and customize your identity verification service flow without heavy engineering. Fight fraud proactively while staying compliant with the ever-changing KYC, KYB, and AML laws.
Onboarding for 200+ countries and territories


iDenfy extracts data in 0.02 seconds from 3500+ active government-issued documents. Web, iFrame, or mobile apps – the choice is yours.
24/7 human supervision within 3 minutes


In-house experts double-check identity verifications to improve accuracy and the overall customer approval rate.
3D liveness detection or passive verification


Patented 3D liveness detection technology instantly spots fraudulent verification attempts while scaling your identity verification services volumes without hassle. Passive verification detects fake documents from a single photo.
Stop overpaying for rejected verifications
Verifications (per month)
Our customers save up to 75% from verification costs if the business faces an inflow of declined attempts. We calculated approximate savings by comparing paying only per approved verifications versus paying per completed verifications. Please note that your results can differ.
How much can I save with iDenfy?
Pricing needs to be transparent. iDenfy optimizes budgets and covers denied identity verification costs when customers:
Provide blurry and poor-quality images
Attempt to use face masks, fake or expired documents.
Try to use documents from blacklisted countries.
ANTI-MONEY LAUNDERING SCREENING
Screen and monitor your customers
Automatically sceen customers and eliminate potential attacks by receiving real-time notifications. Reach global markets and ensure compliance easier.
Access watchlists, sanctions lists, and PEPs (politically exposed persons)
Conduct ongoing screening
Filter adverse media
Use an API for easy integration with ID document verification solution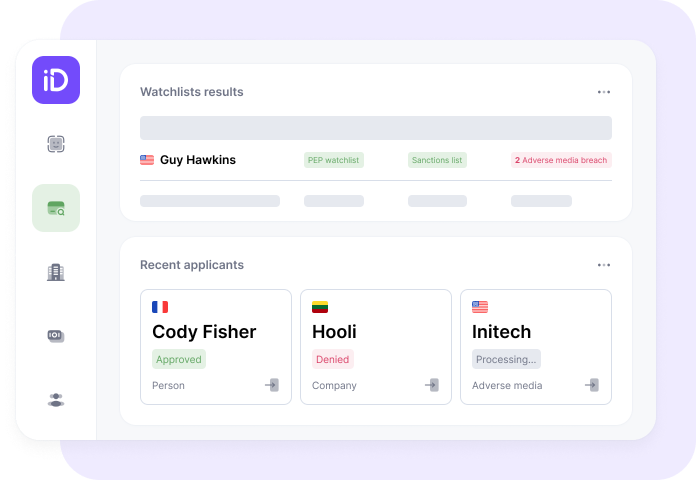 KNOW YOUR BUSINESS
Verify businesses and stay compliant
Benefit from KYB business registries and customized automation to save up to 30% time for your compliance team.
Access 180+ company registries from 120 countries
Download credit reports and review credit ratings
Screen UBOs, receive real-time shareholder data and perform KYC checks
Use custom rules to flag sanctions or PEP findings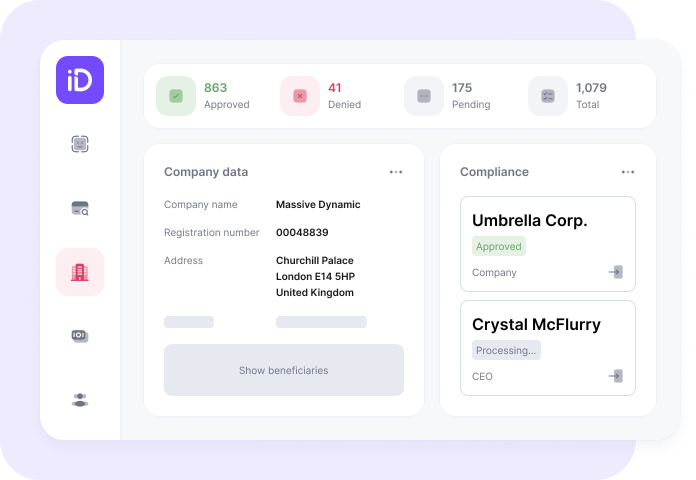 Effective against all fraudulent activities
iDenfy secures startups, financial institutions, and digital services with a three-layer identity verification process to prevent severe identity fraud.
Forged documents
iDenfy conducts technical checks to detect fraud and verify information accuracy during online ID verification.
Compromised documents
We provide comprehensive ID verification, using AI and manual checks to confirm user authenticity.
Stolen or expired documents
We detect stolen or expired documents and identity information extraction in as little as 0.02 seconds.
Blocklisted documents
Include blocklisted documents, selfies, or contact details to prevent fraudulent attempts immediately.
Active or passive verification
3D liveness verification whenever compliance requirements specify it or passive verification for other occurrences.
Paying only per approved
iDenfy offers free document verifications and reduces ID verification costs by up to 75% compared to other solutions.
Integrations
Increase verification pass rates with multiple integrations. All are supported by the core iDenfy team.
Case studies
Get inspired by our customer success stories.
Save costs by onboarding more verified users
Join hundreds of businesses that successfully integrated iDenfy in their processes and saved money on failed verifications.